Welcome to the UmpireBible
---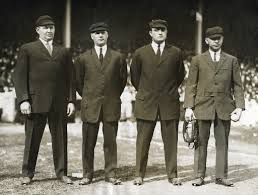 The UmpireBible is the premier website for new and developing umpires of amateur baseball. Our mission is providing a dynamic platform to help you learn the rules of baseball, and to provide an introduction to the basics of umpire mechanics. And a bit more, too.
Have you tried to learn the rules of baseball from the rule book? How'd that go? If you're like me, not well. Or maybe you attended a class or two, where the instructor plowed through an 80-slide PowerPoint deck in three hours on a Saturday morning. How much of that do you remember?
Well, I got tired of trying to learn the rules of baseball by flipping endlessly from reference to reference. So I set out to write about the rules of baseball in a logical and plainspoken manner and provide links to all of the rules references, and, well, I suppose I got carried away.
So welcome to the UmpireBible.